EngView Systems Appoints Kris Hanchette as Vice President for North American market
News
EngView Systems Appoints Kris Hanchette as Vice President for North American market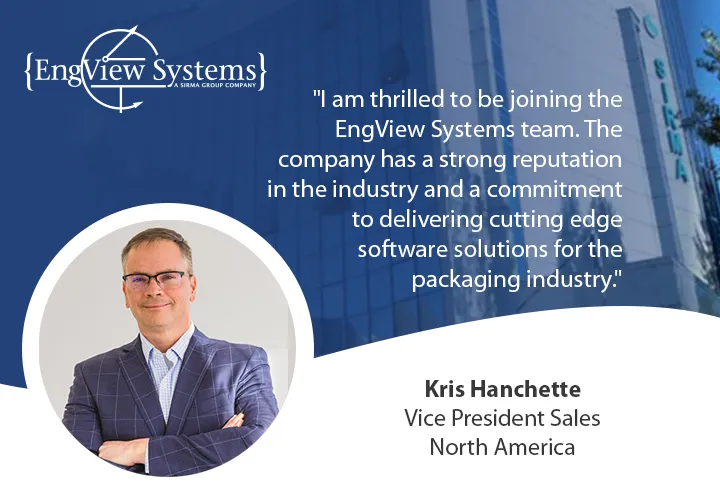 Kris Hanchette joins EngView team as Vice President of Sales for North America. He will manage all operations in the region for the leading provider of CAD/CAM solutions for the packaging industry. With over 20 years of sales and business development experience, Hanchette brings a wealth of knowledge to the role, including a solid background in industrial automation, CAD/CAM software, CNC cutting machines and visual communications.
Hanchette has a proven track record of driving growth and expanding market share in highly competitive industries. During his time at MultiCam, he was instrumental in establishing the company as a leading provider of cutting-edge technology solutions, and he brings this same level of expertise and commitment to his new role at EngView Systems.
Hanchette will be responsible for leading and developing sales strategies and initiatives in North America, with a focus on increasing customer engagement and revenue growth for EngView's packaging products. He will work closely with the company's sales, marketing, and product development teams to ensure that EngView Systems continues to deliver innovative packaging solutions that meet the evolving needs of its customers.
"I am thrilled to be joining the EngView Systems team," said Hanchette. "The company has a strong reputation in the industry and a commitment to delivering cutting edge software solutions for the packaging industry. I am very impressed with the team, the software and how it makes companies far more efficient. The EngView software makes complex packaging projects easy. I look forward to working with the team to drive growth and further establish EngView Systems as a leading player in the North American market."
EngView Systems' CEO, Georgi Marinov, added, "Kris has a diverse background, with a deep understanding of software, cutting equipment and the sales process. His expertise, including over 20 years at MultiCam, will be invaluable as we expand our presence in North America and deliver innovative solutions to our customers."
The appointment of Hanchette is part of EngView Systems' ongoing efforts to enhance its position as a leading provider of CAD/CAM software for the packaging industry. With his extensive sales experience and proven track record, Hanchette is well-positioned to drive growth and drive EngView Systems forward in the North American market.