Join EngView at Printing United Expo 2023: See the Latest in Packaging Design Software
News
Join EngView at Printing United Expo 2023: See the Latest in Packaging Design Software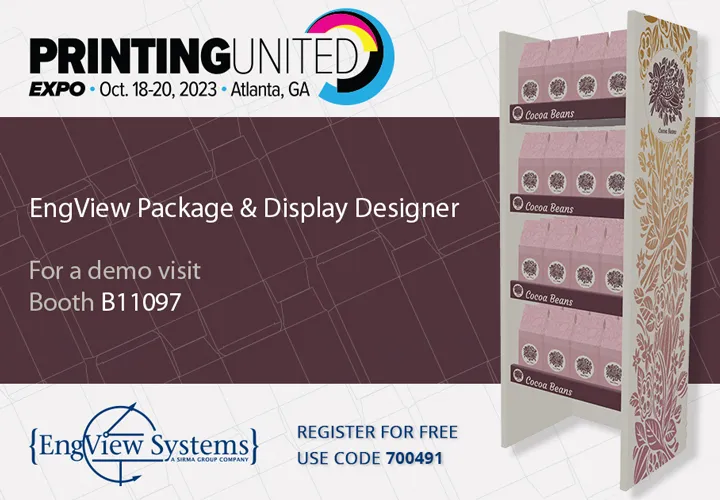 We're excited to announce that EngView will be participating in this year's Printing United Expo in Atlanta, from October 18th to 20th. The show will gather professionals from the entire printing and packaging industry, offering insights, innovations, and the latest technological advancements.
We are thrilled to invite you to visit us at the EngView Booth B11097 and see the latest developments in packaging design.
EngView Package & Display Designer Suite: Software Solution for the Packaging Sector
At the expo we will be showing our latest software enhancements and how the development of our CAD/CAM system can streamline the design and pre-production stages of packaging and POP/POS displays.
We will demonstrate how an integrated workflow for design and production works, how to make pixel-perfect graphics and see them simultaneously in 3D thanks to our integration with Adobe Illustrator® and how to optimize production and increase profitability.
Whether you are using Mac or PC, our packaging design software is compatible with both!
Spotlight on EngView-Infigo Partnership
This year's expo has special significance for us due to our recent strategic partnership with Infigo, a leading provider of personalized print and e-commerce solutions, successfully delivering an innovative web-to-print platform.
Thanks to the integration with EngView, Infigo will now offer cutting-edge parametric computer-aided design, making them a leading web-to-print platform for the packaging sector.
The innovative web-to-pack solution will debut at Printing United! We encourage you to experience the ultimate e-commerce 3D design tool by visiting Infigo's booth at B7051.
Advanced Workflow Demonstrations at Partners' Booths
Join EngView Systems every day at noon in the Mimaki USA, Inc. Booth C2831 at the PRINTING United Expo for a presentation of advanced workflow from design, print to cut. The cutting is done thanks to our partner Cutworx USA. You will have the opportunity to see how to make custom packaging with ease using modern software and equipment.
There will be many cool projects at our partners' booths done with the EngView Package & Display Designer like a pickle ball paddle holder at Kongsberg Precision Cutting Systems Booth B7033.
Meet us in Atlanta
Atlanta beckons, and we're eagerly awaiting the opportunity to meet, connect, and explore the infinite possibilities of packaging with you. The future is being printed!
See you at the EngView Booth B11097!