EngView launches Version 8 of its Packaging Suite
News
EngView launches Version 8 of its Packaging Suite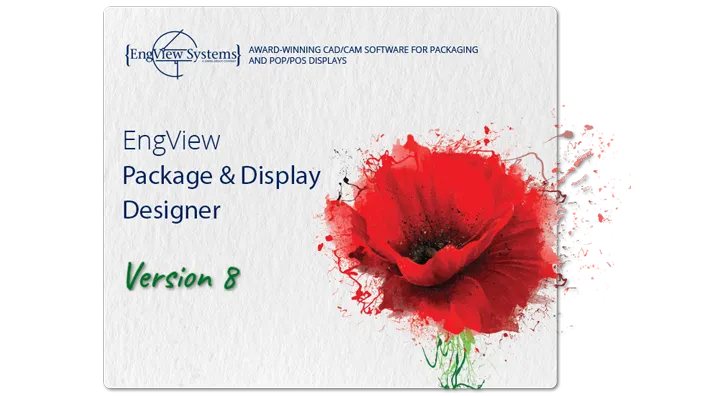 Our team is excited to share the news about the release of EngView Packaging Suite Version 8. We want to shout out "It's here, and it's amazing!" We completely redid our 3D visualizations: redesigned the materials catalogue, added àn option to choose the stage environment to use similar light to the place of purchase. The realism of the 3D packaging designs and the product models to go inside is astonishing! The new technology behind the 3D now allows us to continie the workflow in rendering software like Blender to create complete scenes with the packaging or display models. Digital marketing teams use these visualizations to create their campaigns before the real packaging has been produced or even before the product itself has been produced. Yes, now TV commercials use 3D effects like in the movies. Life is changing, technology is advancing, people's minds not so much unfortunately…
Our goal has always been to optimize the work of the packaging professionals: to do more with less effort and to have the tools to stretch their imagination and transform a piece of paper into an inspiration.
In Version 8 we added 374 new parametric designs to the EngView Library, including the new FEFCO codes, some new grey board standards, pair designs to minimize waste, new furniture ideas and more. We also introduce a new feature that will be very useful for the customer approval process called Shared Space. It is an EngView cloud for easy sharing of 3D designs with customers and colleagues.
The 3D folding animation has been improved with camera viewpoint to smoothly draw the customer's attention to specific design elements: could be the locking system or a nice finish effect like spot varnish or embossing. With the slick camera movement, customers will be woed by the design!
In Version 8 we go one step further to optimizing the files for production by resolving the bleed conflicts.Thanks to our enhanced integration with Adobe® Illustrator®., designers can now complete their workflow: prepare the structure and layout in EngView, add graphics and multiply the design over the layout in Illustrator® to finally have a production file ready to send to the printing machine. The new bleed resolution functionality notifies designers of bleed conflicts and gives options to resolving the issues.
For CorelDRAW® users we have made it possible to import (.cdr) files and associate the drawing lines to EngView styles.
Learn more about the new amazing features of Version 8 or start your 10-day free trial!