EngView and CUTWORX USA partner to deliver an end-to-end solution for packaging and display producers
Notícia
EngView and CUTWORX USA partner to deliver an end-to-end solution for packaging and display producers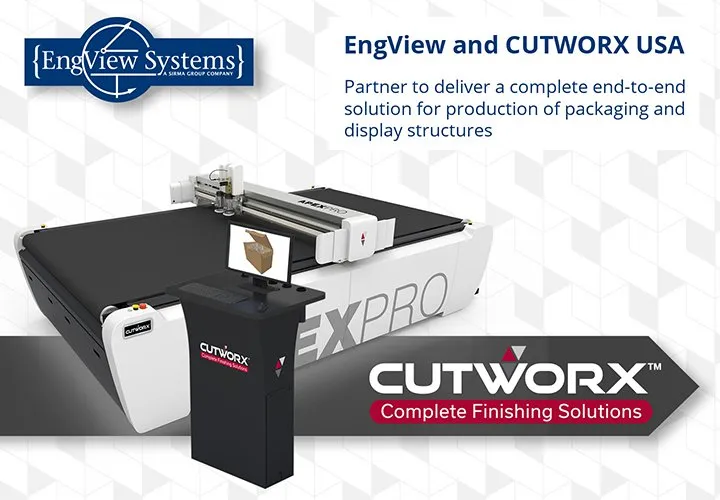 We are thrilled to announce a new partnership between EngView and CUTWORX USA. EngView Systems, a leading provider of packaging and display design solutions, teams up with CUTWORX USA, a producer of automatic cutting and finishing equipment, to offer a complete end-to-end solution for producing packaging and display structures.
Customers can now bundle their Digital Finishing Equipment with EngView's advanced packaging and display software. "CUTWORX has a full line of Digital Flatbed Cutters that can be equipped with a variety of tools for packaging and display producers. The EngView / CUTWORX bundle gives customers advanced user-friendly tools for a more accessible price point." says Kris Hanchette, EngView's VP for North America.
Customers can now benefit from integrated workflow where EngView files feed directly CUTWORX Digital Flatbed Cutter, eliminating the need for manual file preparation, reducing overall production time, and minimizing the possibility for errors. Having the EngView / CUTWORX bundle saves time by automating the job setup process and increases productivity and profitability by having a multi-function end-to-end digital cutting solution.
"We are excited about this new partnership with EngView. The headquarters of CUTWORX USA is in Irving, Texas and there we have a turnkey Technology Center for Wide-Format where we can demonstrate in front of the customers how one design goes from print, through cut and walk away with a finished product." says Raum Divarco, CUTWORX USA General Manager.