Version 7 speeds up and automates the day-to-day jobs of packaging professionals
Notícia
Version 7 speeds up and automates the day-to-day jobs of packaging professionals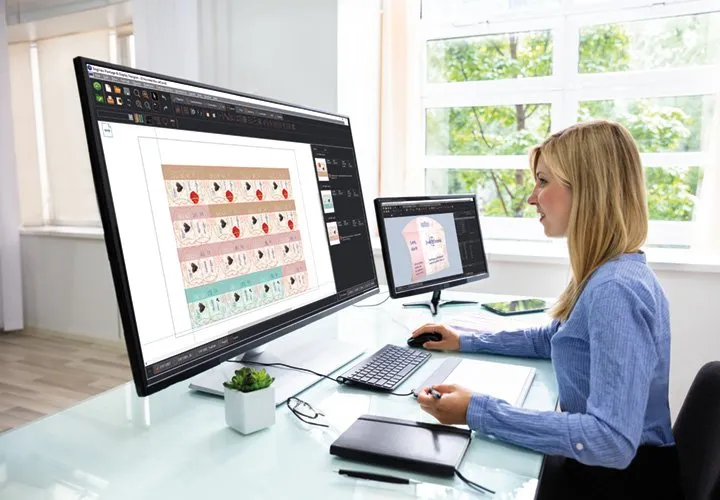 EngView Systems has released a new major version of its CAD/CAM software for structural design of boxes and POP/POS displays. The EngView Packaging Suite now provides a wide range of tools that speed up and automate the day-to-day jobs of structural designers, graphic designers, diemakers and sales people involved in the creation, communication, and production of packaging.
Commenting on the benefits the new release will bring packaging designers and producers, Georgi Marinov, CEO of EngView Systems, emphasized that "Version 7 effectively improves the work of packaging professionals in the areas of structural design, 3D modeling, artwork placement, and the optimization of production runs."
Structural designers can now use a mixture of conventional and parametric drafting techniques. They can drag and drop custom-drawn parametric components or draw multiple parts of a display in a single master canvas. The new approach to drafting displays has been implemented into the CAD software to help designers create complex structures in a single drawing. To improve software performance when working with large files and multiple designs at the same time the new release is available in a 64-bit version.
For the graphic designers the Suite offers extended integration with Adobe Illustrator resulting in the generation of high-resolution images for printing and files for cutting. Once created in the CAD software a layout is also visible in the Abobe Illustrator environment allowing automatic Step & Repeat of the vector graphics over the sheet. The enhanced 3D presenter can now visualize the folding of curves creases like pillow pack. To facilitate end customer communication and shorten approval time, Version 7 offers new export formats for sharing 3D models in a web browser.
With over 100 new parametric designs to add to the comprehensive EngView library of resizable structures for folding carton, corrugated board, ICB, PVC, grey board and other sheet materials, the Suite is the preferable software for the designers and producers.
Version 7 goes one step beyond the packaging design and production optimization. The Suite includes a web-to-pack platform, packGATE that helps producers sell personalized packaging online. They have their own branded web shops where users can select a box, fill in sizes and see the packaging in 3D. packGATE offers real-time customization with vector graphics and finishing effects. The user can directly select quantity and place an online order. This way the producer can feed its digital machines with a constant flow of packaging jobs.
"We are glad that two years back we took the right decision to invest in an online packaging platform. Our goal was to help producers optimize their digital capacities by receiving a constant flow of orders 24/7", commented Valentin Vachkov, Product Manager of packGATE.
The EngView Packaging Suite is a software solution that increases the efficiency of packaging professionals, optimizes production runs and helps producers utilize their digital capacities.