EngView Packaging Suite
Die EngView Packaging Suite ist eine CAD/CAM Desktop- und Cloud-Lösung für die Konstruktion, das Design und die Vorfertigung von Verpackungen und POP/POS-Displays. Das Programm bietet ein breites Spektrum an Werkzeugen, die die tägliche Arbeit von Verpackungsentwicklern, Grafikdesignern, Stanzformherstellern und Vertriebsmitarbeitern, die an der Konstruktion, der Kommunikation und Produktion von Verpackungen beteiligt sind, beschleunigen und automatisieren. Die EngView CAD/CAM-Software ist mit Adobe® Illustrator® integriert. Sie visualisiert bedruckte 3D-Modelle der Verpackung mit dem darin befindlichen Produkt. Mit der neuen Step-and-Repeat-Funktion werden die Druckdaten im EngView-Plugin des Adobe® Illustrator® druckfertig generiert. Die EngView Packaging Suite optimiert jeden Aspekt der Konstruktion, des Verpackungsdesigns und des Vorfertigungs-Workflows. Dream – Create – Succeed.
Bundles
Der vielseitige modulare Aufbau von EngView ermöglicht es Ihnen, die Verpackungssoftware nach Ihren eigenen Bedürfnissen zu konfigurieren.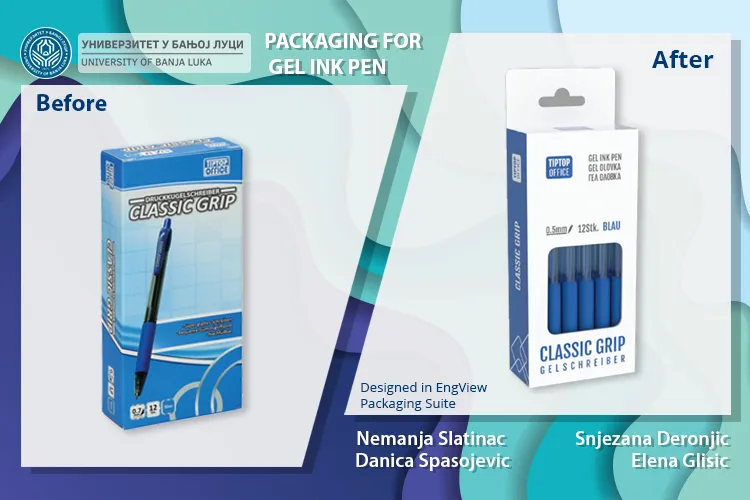 Students from the Faculty of Technology, University of Banja Luka worked on a very exciting project last semester. Their task was to re-design the whole portfolio of TipTop Office, an office supplier brand in Bosnia and Herzegovina. You can see the creativity and personal approach in every new design! Each packaging was created using the EngView Package & Display Designer and its integration with Adobe Illustrator. The students put a lot of efforts to re-design the products going through the workflow step by step – from structural and graphic design to layout nesting. We feel accomplished every time we see students in action using the EngView packaging software. Our mission is to give students around the world access to advanced packaging software during their study and give them a great start for their future professional development. Thank you for sharing these designs with us! We can't wait to see what's next! This is the team behind the project:Professor: Mladen Stančić, PhD, Head of Department of Graphic EngineeringAssistant: Branka Ružičić, BSc Students: Nikola PetrovićSiniša ZorićEmilija IgnjatićAleksa KasalovićTeodora MutićDajana Šarenac Ana Marinković Nikolina Glišić Nikolina Škrba Nemanja SlatinacDanica SpasojevićSnjezana DeronjićElena GlisićJelena NikolićZorica MilakovićMiloš PerišićIgor Nikolić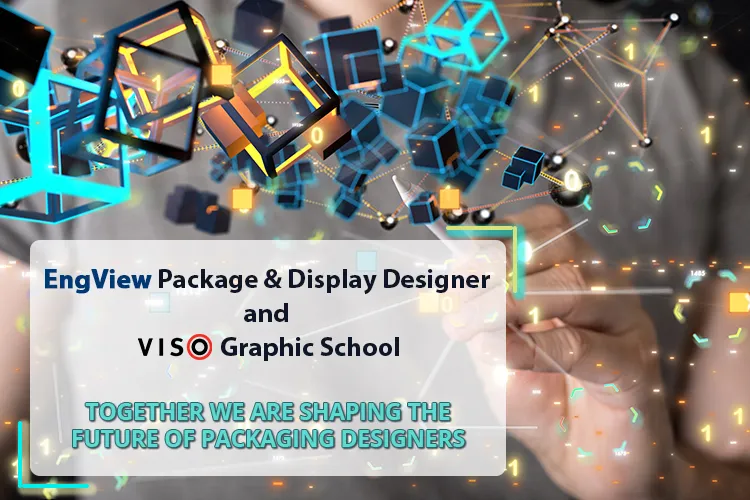 We are thrilled to welcome another partner joining us on our journey of shaping the future of packaging designers! EngView has joined forces with VISO, one of the largest graphic schools in Belgium, to provide an enriching educational experience for packaging designers. VISO, renowned for its commitment to nurturing talent and inspiring young minds, believes that education goes beyond textbooks, aiming to foster curiosity, creativity, and a profound understanding of modern technology among its students. EngView is proud to be a part of this educational journey, contributing with cutting-edge packaging software, the EngView Package & Display Designer, to empower students with the latest technological trends in the field. We firmly believe that integrating our software into their curriculum will enhance the students' professional skills, preparing them for successful careers in the packaging industry. At the core of EngView System's mission has always been a dedication to bringing innovation in the packaging industry. Through collaborations like this one with VISO, we continue to invest in the future of graphic designers. By equipping educational institutions with state-of-the-art software tools, we ensure that students have the best resources to learn, grow, and ultimately lead the industry forward. This partnership is another step in our commitment to education and the packaging industry's evolution. It is our belief that through education and collaboration, we can inspire the next generation of packaging designers to push the boundaries of creativity and innovation, ultimately shaping the future of packaging design. With EngView's support, VISO students will have access to a versatile and powerful packaging software solution that will enable them to explore their creative potential, design packaging solutions that are both functional and visually appealing, and develop the skills required to excel in the competitive world of packaging design. We are excited about the possibilities that this collaboration will unlock, and we look forward to witnessing the impressive designs and innovations that will emerge from the talented students at VISO.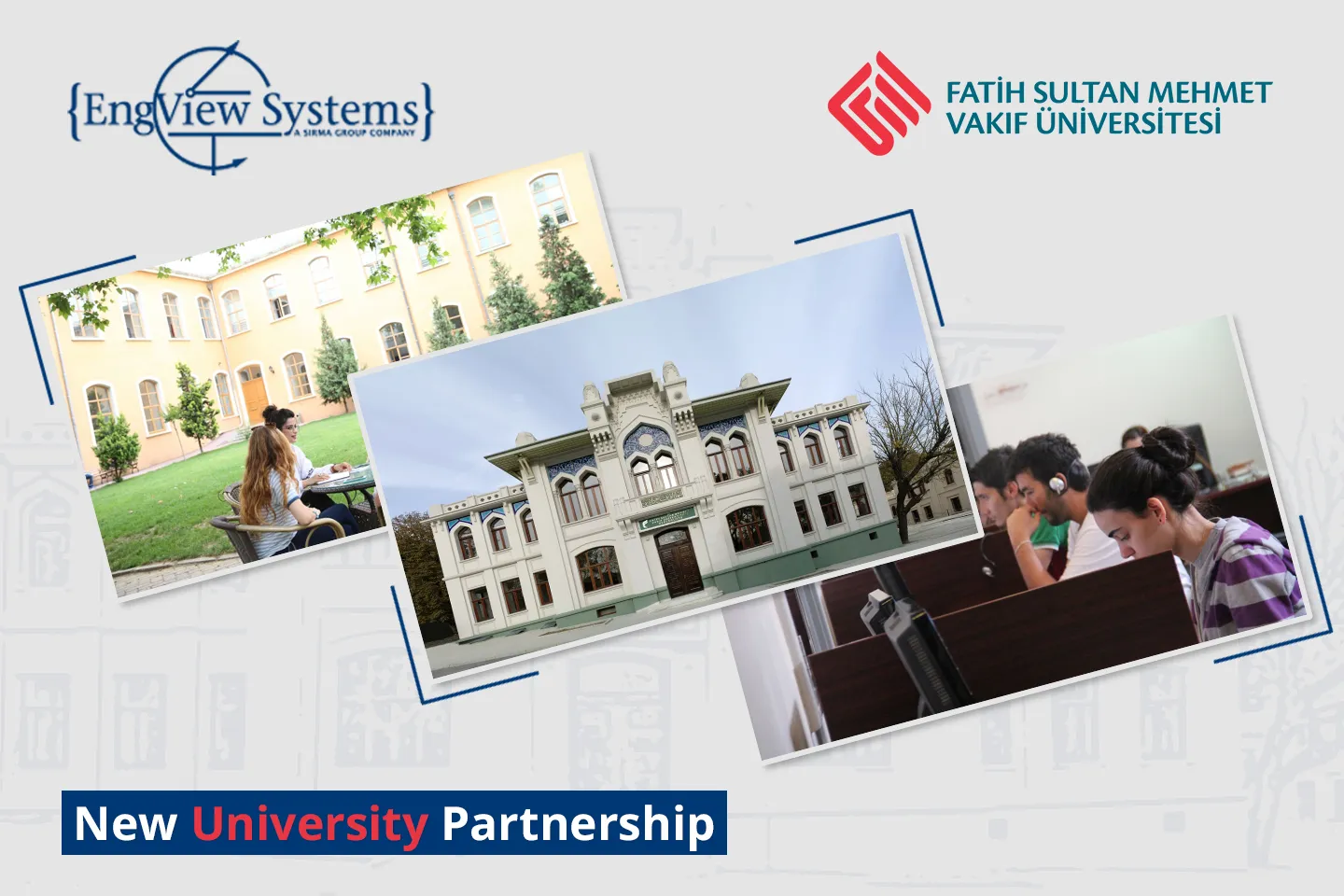 EngView Systems partners with Fatih Sultan Mehmet Vakıf University (FSMVU), one of Turkey's leading institutions in higher education. This collaboration signifies a shared vision of fostering innovation and skill development in the field of design and graphics. EngView Systems is committed to enriching the educational landscape by providing EngView Package & Display Designer software to academic institutions. This is part of a longstanding policy to support educational programs and facilitate the development of adept professionals in the packaging sector. With more than 7,000 students, FSMVU offers a diverse range of programs, including graphic design, across its 8 faculties. The university boasts a significant number of international students from 67 countries, reflecting its global and modern outlook and commitment to cultural diversity. The collaboration ensures that students of FSMVU will now have access to one of the industry's best software solutions for packaging design, aligning their learning experience with the latest technological advancements in the sector. The EngView Package & Display Designer will become an integral tool in nurturing the next generation of designers, equipped with the knowledge and skills to excel in an increasingly competitive market. Through EngView Packaging Suite the students at FSMVU will study packaging design and will have the chance to engage in practical, real-world project simulations. It is a significant addition to FSMVU's already impressive resources, which include a library of over 100 thousand books, 318 thousand electronic books, and dozens of database facilities. EngView System's mission has always been to foster the next wave of innovation in the packaging industry. By equipping institutions like Fatih Sultan Mehmet Vakıf University with a modern software, EngView Systems invests in the future of design and ensures that students have the best tools at their disposal to learn, grow, and eventually lead the industry.

Booth # 7AC12, Messe Dusseldorf
In den letzten 20 Jahren haben wir keine Drupa-Messe verpasst. Das wird auch dieses Mal nicht anders sein. Sie werden uns 2024 auf der führenden Messe für Druck- und Verpackungstechnik wiedersehen.