EngView 2023 with New Updates Focused on 3D Design Usability
Notícia
EngView 2023 with New Updates Focused on 3D Design Usability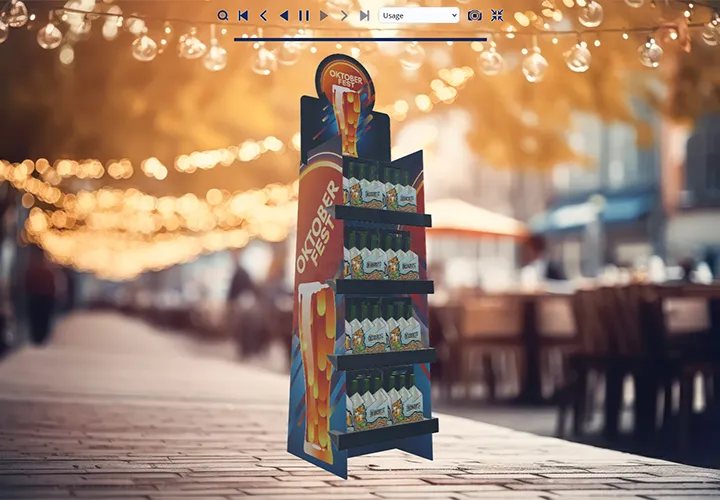 The latest update of EngView Package & Display Designer 2023 is now live! It focuses significantly on enhancing the 3D modeling experience for structural designers by improving usability and efficiency. The new features give designers more control over the 3D assembly of complex structures like POP/POS displays, furniture, booth stands, luxury boxes and other multi-part designs. Here is a breakdown of the exciting features and how they can impact the workflow positively:
Visually build multipart displays and structures
Designers can now benefit from a new type of drawing – a reference drawing that will not appear in the production files but will help with the 3D visualization of a structure. The reference drawings will save structural designers time bypassing the need for complex formulas when building muti-part structures like POP/POS displays. Multipart structures can be easily visualized with EngView's advanced realistic 3D visualization showing the full folding animation.
Quick transition between 3D and 2D
Another feature to optimize the work of structural designers is the quick transition from each part of the 3D mockup to the corresponding flat drawing. This usability feature helps designers stay focused on the work at hand.
Conditional presence of external objects and parts of a display
The 3D model presentation is now even more impressive as the designer can control the animation by setting conditions for the visibility of each part of the structure or an external object.
Enhanced 3D Assembly view
The new assembly interface gives an overall view of the parts and how they move and fit into the display. This helps structural designers create the 3D mockups faster and more intuitively.
Enhanced collaboration and approval features for EngView Shared Space
Sending the 3D design to customers or colleagues for approval has never been easier. Designers can upload a ready 3D model on EngView Shared Space and send it to the customer in just a couple of clicks. Then receive "viewed" notifications, project status changes or customer comments right there in Shares Space. This allows anyone with a link to see the realistic 3D design in their Web browser with graphics, finishing effects, as well as the folding or assembly animation. The best part is no special software or license is needed for the recipients.