EngView expands its integration with Kongsberg Precision Cutting Systems
Notícia
EngView expands its integration with Kongsberg Precision Cutting Systems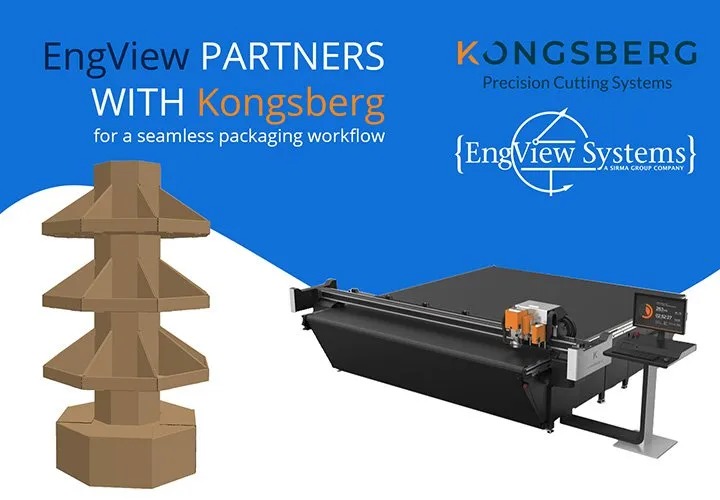 EngView Systems, a leading provider of packaging and display design solutions, and Kongsberg Precision Cutting Systems, a global leader in digital cutting technology, partner to enhance the integration of the EngView software into the Kongsberg cutting tables and offer packaging producers a smooth workflow.
The partnership brings together EngView's advanced box design software and Kongsberg's state-of-the-art digital cutting tables to offer a complete end-to-end solution for creating packaging and display structures. The collaboration will enable designers to easily transfer their files directly to the Kongsberg cutting table, eliminating the need for manual file preparation, and reducing overall production time.
EngView's Packaging Suite CAM Module now allows for seamless integration with Kongsberg's Precision Cutting tables. Once the structural and graphic design is complete in EngView, the packaging specialist can easily output a single file that includes the geometry and metadata like the material name and flute direction which reduces the possibility for errors and saves time by automating the job setup process. In a production environment this translates to more jobs done in less time with fewer errors.
"We are excited about this new partnership and expanding the integration with Kongsberg's cutting tables. Customers will benefit from combining EngView's parametric libraries for boxes and displays and our advanced design tools with Kongsberg's high-speed and very versatile cutting systems. Making it even easier to create stunning packaging that both protects and compliments the product." shares Valentin Vachkov, Product Manager Packaging Solutions.